Silver Blues
Hello Everyone!
It seems it's been forever since I did an outfit post. I just remembered that the post-Christmas S.A.L.E's are going on and that I had picked up these amazing Silver boots. Well technically speaking I had picked them up in November, in the excitement of going to London. I am usually not the type of person who goes for anything silver or shiny for outfits, except accessories, but there was something about these boots, that just called out to me.
These kitten heeled boots are amazing and are so comfortable to walk around. Of course, they are not meant for harsh winters, but these days since it barely snows in Krakow, I had plenty of chances to wear them around and they are always getting noticed. Usually, in winters, everyone is wearing dark colours like black or grey and I think these boots are going to do all the attention seeking. Speaking if the weather, it started to snow right now but not like it used to five years ago when I first came to Krakow. I remember attending Spanish classes in the city centre and wow did it snow. The whole Rynek was a white blanket on most days. Now it just comes and melts away in a blink of an eye it seems.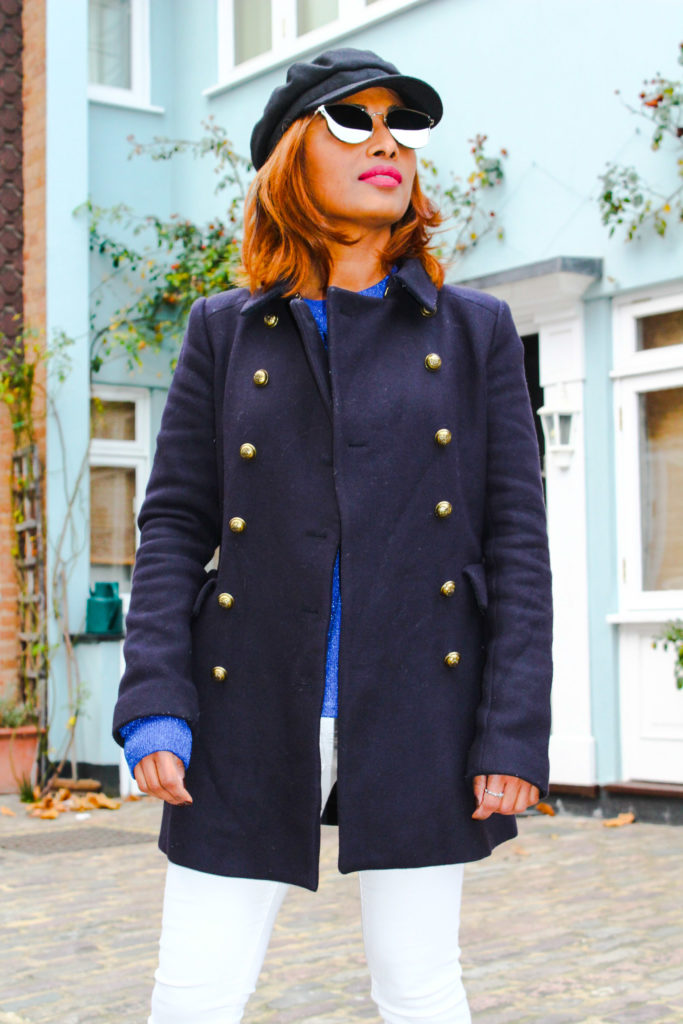 I also took my favourite sunnies, from the Polish brand Pacze Pacze, and they are silver reflectors which added some oomph to the whole look. My ootd was a blue sweater with the tiniest bit of gold flecks, which you can only see up close and I wore white denim, because 'Why Not?' I love white denim and feel they are very flattering, especially the skinny fitting ones. On the colour wheel, Silver and Blue are Analogous Colors and hence go well together. I usually do not wear jewellery or accessories, but I carried a little white sling bag, to take my phone and some cash.
Tip: While travelling, carry a small sling bag or a belt bag (pouch) for immediate valuables like cash, cards and phone and everything else in a small backpack, like water or extra stuff like maps, camera, phone chargers etc.
The location of the photographs and background colours were just a coincidence, as it was on one of the floors in a 5-star hotel, which we got off by mistake and then realised what a great place to take the pictures. A lucky chance for a shoot! I loved how the pictures turned out and I hope you like them too.
Thank you for stopping by and let me know in the comments below what you think of these boots.
Till next time
xox
Doreen
---
---